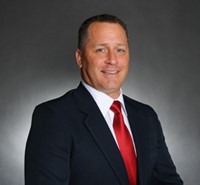 WELCOME NEW HEAD COACH CHUCK GIBBS
Chuck Gibbs hails from a legendary football family. His father, Alex Gibbs is a 30 year NFL veteran, the architect of the zone blocking scheme and is currently on staff with the New Orleans Saints. Chuck's brother, David has 8 years of NFL experience, was the former Defensive Coordinator at Auburn University and is now the Assistant HC/DC for Texas Tech.
Chuck received All-State honors in both Track and Football at Auburn High School, AL. He had D1 scholarship offers in both football and track, but opted to attend the United States Military Academy where he could do both. During his time at West Point, Chuck ran the 400 IM Hurdles, and was a 4 year letterman at Cornerback and Punt Returner. Gibbs was a member of the Army Football team that played Alabama in the 1988 Sun Bowl. Upon graduation in 1992, Coach Gibbs served as Army's assistant strength coach and was promoted to Outside Linebacker Coach and JV Defensive Coordinator.
After the 1993 season, Gibbs attended flight school and became an Attack Helicopter Pilot and Company Commander in the US Army. Throughout his 10+ year military career, Gibbs coached both football and track at multiple high schools while serving our nation. In 2004, Coach Gibbs spent 6 weeks with the Atlanta Falcons staff and had the honor of being an offensive assistant in the 2005 Pro Bowl in Hawaii.
Chuck has served as the Head Football & Head Track Coach at Scottsdale Christian Academy the past four years. Under his leadership, the Eagles accrued a 31-14 record, made the playoffs all four years, and set 22 of the school's 25 football records. They won the 2015 Arizona Sportsmanship Award, a Region Championship, two Coach of the Year awards, and back to back quarterfinal appearances. Coach Gibbs is extremely proud of his team's success the past four years: averaging over 500 all-purpose yards and 37 points per game. His defense has logged 124 takeaways and 23 scores while surrendering less than 17 points per game.
Chuck is a CERTIFIED FINANCIAL PLANNER™ and owns his own Registered Investment Advisory firm. Chuck and his beautiful wife Raquel have two amazing children, Keona and Kale. The Gibbs will relocate from Scottsdale to LaGrange this spring.